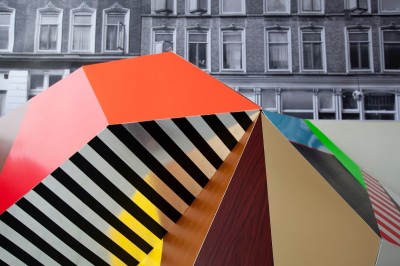 artist-in-residence
id11 invited
seven artists from the framework of the European network CreArt for
their Artist-in-Residence project. For 2 months Fernando Guijar,
Bartis Elemer Marton, Carlos Sanz
Aldea, Roberta Menechini, Eddy Kaijser,
André Vieira and Martina Kartelo worked on their own projects for the Car Art festival on the
grounds of Lijm
& Cultuur – and presented their work every Friday afternoon
during the artist talks 'bij wijze van SPREKEN' -. Work in progress could be
followed by visitors during the regular opening hours of Lijm & Cultuur.
Special about this project was the connection to the Car Art festival and an
important contribution to the project was that every artist was connected to a
curator, who gave a substantive feedback. New work of the artists will be
presented at the Car Art festival on August 9 and 10.
Besides new art works of the 7 invited Artists-in-Residence, id11 invited 19
artists with existing work for the Car Art festival. Albert Geertjes,
Bart Jansen,
Corine Zomer,
Filip Jonker,
Henk
Tas, Joyce
Westorp, Jordy Koevoets, Laura Lappi, Lineke Hansma, Mark Swysen,
Maze de Boer,
Mio Fujimaki,
Olaf Mooij,
Paul van den
Hout, Refunc,
Rob van der
Hoeven, Ronald
Schelfhout, Sonja de Bruin and Wouter Sibum
will show their work.
more at car art
Car Art is a multidisciplinary festival, where cars and car parts are in their
most literal or abstract form the source of inspiration. Besides art, you can
enjoy; theatre, poets who dedicated poems only for you, participating in
workshops, eating from a food truck, listing to music of DAAU // Die
Anarchistische Abendunterhaltung, Henk Wijngaard, Hunting the Robot, Tim en
Roos van Roosbeef, Wolf in Loveland, Bubble Chamber, The Cannonball Johnsons,
Mr. Skolnick, Meindert Talma, Traffix, Zinkzand, Danserette, Ivopiloot and much
more at the Car Art festival.
open

Saturday August 9, 11.00-00.00 hrs.
Sunday August 10, 11.00-18.00 hrs.

information
www.carartfestival.nl

location
Lijm & Cultuur
Rotterdamseweg 272
2628 AT Delft
15 min walk by train from station Delft Zuid.
By car A13 exit 10 Delft Zuid.
info@id11.nl
| www.id11.nl
photo by Marco
Zwinkels work of Fernando Guijar