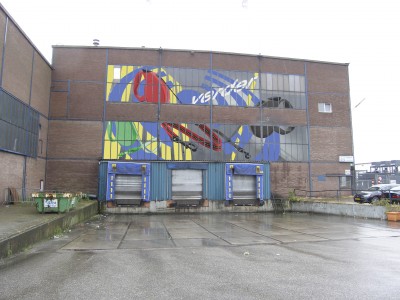 artists and presentation dates
In June id11 started with the artist-in-residence project BUITENgewoon. id11 invited 6 artists to work for 2 or 3 months at De Kabelfabriek, the former NKF (cable factory) in Delft, The Netherlands to create new work related to the location. Wednesday July 25 and Wednesday August 29 the artists will present their project proposal and explain about their work at the artist talk bij_wijze_van_SPREKEN. The artists work towards a final public presentation which takes place on Friday 31st of August at De Kabelfabriek.
Participating artists are:
Chelsea Leventhal will work on a multi-channel, site specific sound installation which utilizes the particular architectural and acoustic features of the space.
Jeffry Koopman will work on new sculptures. They will be composed out of found material like scrap wood, cables, plastic tubes and parts of household appliances. The building of his sculpture is as making a spatial drawing or collage. In his work the influence of violence and the loss of control can be found in the handwriting, treatment of the material, shape and subjects.
Flora Moscovici will make a gestural painting that exists outside of a frame. A painting on a huge wall inside De Kabelfabriek where the existing elements, like doors will have a (abstract) function in the painting.
Matthijs Muller will make a work with the title Verder on the facade of De Kabelfabriek (photo). Influenced by the fact that he grew up in Delft, as a youngster had a job during holidays at the NKF and his knowledge of Piet Zwart, a Dutch designer who made work for the NKF. He will try to fuse it together in a light ironic image that at first glance looks like modern facade advertising but at second glance quite a few questions will arise.
Robin Kolleman explores the (border-) area of social acceptance within the physical social contacts, the area in between closeness and vulnerability, in between violence and innocence. At De Kabelfabriek Robin will make Peel of my privacy a sculptural installation.
Sam Bunn will develop an installation about trying to fall asleep/trying to escape into another world where the rules are different. He will build a walk-in structure that is a mixture of small finished rooms and areas that are demarked in another way. Some parts with walls, others with only lines. The 'rooms' will contain/be a series of sculpture and video pieces that tell a loose story of falling asleep.
Artist talk bij_wijze_van_SPREKEN
Wednesday 25 July at 5pm
with Matthijs Muller, Robin Kolleman and Flora Moscovici
Wednesday 29 August at 5pm
with Chelsea Leventhal, Jeffry Koopman and Sam Bunn
Kadmium Koornmarkt 48, 2611 EH Delft
Final presentation BUITENgewoon
Friday 31 August at 5pm
De Kabelfabriek Schieweg 15, 2627 AN Delft
Photo
"Verder (Farther)", study for an application on the facade of the former NKF (cable factory) by Matthijs Muller.